More than just an ordinary soymilk machine. Soyabella is even more convenient and versatile with the deluxe SB-132 package. It adds the tofu kit and stainless steel lid. The tofu kit is a handy tofu press that squeezes soy curds into delicious tofu perfect for salads, snacks, or as a meat substitute.
The stainless steel lid keeps your fresh soymilk covered while you clean the grinding head, extending the life of your Soyabella Soymilk Maker.
The Soyabella Soymilk Maker is the elegantly easy way to make fresh soymilk and a variety of other delicious recipes in your own kitchen. Simply add soybeans and water to the Soyabella Soymilk Maker and you get fresh soymilk in about 15 minutes. Soyabella is also great for making milk from a wide variety of beans, as well as for making fresh rice milk, rice paste, sesame paste, and porridge. It can even be used as a coffee grinder and mill by using included accessories. Plus, the Soyabella Soymilk Maker is extremely easy to clean.
Details:
Unlike other soymilk makers, Soyabella does not have an exposed heating coil, but instead features a safely hidden heating element inside its stainless steel boiling chamber. Soyabella's advanced safety features also prevent overflows, dry heating, and overheating for safe and reliable operation.
Soyabella's sleek figure and contemporary design also look stunning in any kitchen. It is also compact and features a space-saving design so it doesn't waste valuable kitchen real estate.
Specifications:11000 RPM Blade Speed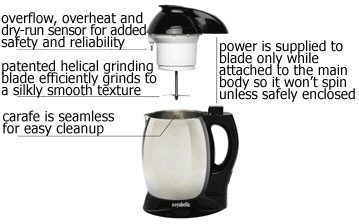 220 Watt Motor
750 Watt Rated Power Consumption
Capacity: 1.3 liters
Weight: 6 lbs.
2 Year Limited Warranty
Design:
Enclosed heating element for added safety and easier cleaning
Stainless-steel carafe and elegant black trim look beautiful in any kitchen
Cool-touch handle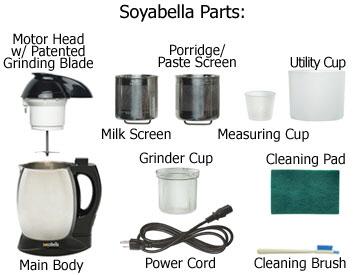 Easy-pour spout
Convenience and Functionality
One-touch operation
Cooking cycles controlled by high-tech microprocessor
Temperature controlled cooking cycle for perfect results every time
Multiple program settings for a wider variety of recipes
Utility cup for easy prep and easy cooling
Measuring cup
LED indicator light and audible notifications
Safety
Overflow sensor prevents dangerous spills
Unit will not heat without liquid in the carafe
Temperature controlled processor prevents overheating
No exposed heating coil
Blades will not spin unless enclosed by the carafe
Soyabella features the latest innovations and safety features that give it an edge over other soymilk makers. See how Soyabella stacks up against the competition: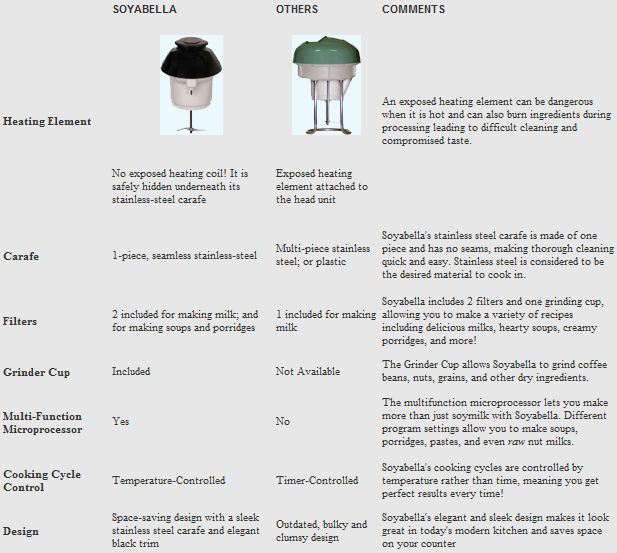 Soyabella Deluxe Soy/Nut milk Maker with Tofu Kit SB-132